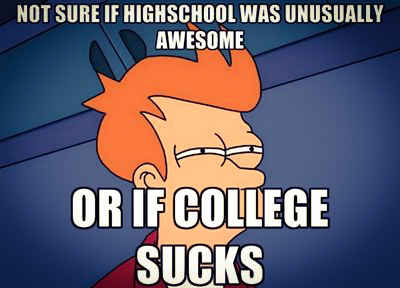 First, lets just talk about the competition out there. I agree, the competition keeps growing, but what really matters is where you stand in it. These money minting colleges are also a part of this race these days. For some, in fact many reasons, I am not able to understand why and how my college comes in the Top 15 Private colleges of India. With my experience, I'd say, it would suck even if it crossed the Top 50s list. You might be thinking why I am speaking so badly about it? Don't worry, you'll get your answers.
I am in my 3rd year right now, studying B.Tech (CSE) at the Manav Rachna College Of Engg, Faridabad in the Evening Shift. When I finished my high school, people used to talk so great about college. The so called 'freedom' to go anywhere you want, anytime you want sounded so real that time. But right now, It's so hard to believe all of that. With about 10 valid reasons, I can prove why my college is nothing but a burden these days (especially my college).
Well, lets begin. 1. Our college fees is something around 1.4 lacs, and I can understand how much hard work my parents do to put us in college's where you get 'Air-Conditioned' classrooms. Hmmm… For us, its like a virtual world. Forget about the ACs, sometimes even the fans and lights don't work. For this, we ourselves had to go to the MCB and turn on the fans and lights of our classrooms. I still remember how much trouble we had to go through during the summer when we used to make calls almost everyday to the staff asking them to switch on the ACs for us. When we reported about this to our Class Mentors, we were asked to go to the Registrars office. Then, when we meet him, he used to ask us to go back to our class Mentors and ask them to prepare a Daily Schedule that had to be given to the staff responsible for handling the working of ACs in classrooms. Why doesn't anybody do their work properly???!!! Round and Round and Round we went around the college to get the damn ACs working, for which we paid around 15k annually.
2. Let's start with the academics now, Hmmmm… First of all, my college is affiliated to one of the worst universities of the world, which I consider is the mastermind behind the idea of 'minting money from students'. You see, 80% of students who study under this university must suffer from a supply/back in at least one subject in at least 1-2 semesters. Its like a compulsion here. You know why? I'll tell, see, when we get failed in one of our subjects we are asked to go to the University Headquarters(in Rohtak) and spend at least Rs. 500 for the re-checking or re-evaluation of our exams. Now, after filling up those forms, there's only 0.1% chance that they are going to pass you after re-evaluation(If they do it), else only your god can save you (that too, in the next year)! So, If you are thinking of getting good grades, studying hard only won't help. It's 70% luck and 30% studies.
3. Bunking Classes in kinda 'not allowed' in our college. You see, when I was told that you can go out anytime you want or even bunk classes I felt like 'finally, we are gonna have some freedom'. But, what happens in my college is so silly, stupid and hard to understand. We students were sitting in the college park, thinking of not attending the class because we all were very bored and tired that day (you'll come to know about the reason for this also). Now what happened was, the teacher who was supposed to teach us in that lecture called 3 other teachers to bring us from the ground to the class. They asked us to go to the class or go home. They told us that you are not allowed to sit in the park when the classes are going on! With half of the children hiding themselves at some other building, me and a few of my friends went to the class and literally were asked to right an application to the HOD, telling them that we wont be doing this sort of thing again! Now, is this what you call freedom? Its a damn college, not a School!
4. A waste of money, time and resources. It's been almost 5 semesters I am in this college now, and these teachers…. All they do is ask us for the submission of Tutorial Notebooks, Files And Assignments! Now first of all, why don't they understand that no one is actually interested in doing any of it. Like seriously! You are in college now, submission of assignments and files is still okay! but Tutorial Notebooks? Are you kidding me???? In my 3rd semester, they never asked for those notebooks but in my 5th they want us to complete our notebooks and even submit them for checking! What's even more funny is that they even asked us to get colored printouts for the file! OMG! Like seriously???? Do they even know how much a colored printouts cost these days! I remember wasting more than 1000 rupees in all this stupid file submission and tutorial work almost every semester! All they do is throw them away(without even seeing them) after the viva. Then why do you ask for it? And if we don't submit them as they want (like lets say if we miss writing 1-2 questions), they threaten us by saying, either complete them or you are getting 0(zero) for this!
5. The MAIN reason! Attendance! Never ever in my life I can believe now that you are a free person when you are in college. Because of this stupid attendance criteria we are forced to sit and attend almost all lectures. Whenever we friends used to plan out on going somewhere for a movie or maybe just go out to eat something, most of us used to say 'Nahi yaar! attendance low chal rahi hai'. Actually, attendance is the main reason why students attend college these days, else, I am pretty sure most of the students would have 40-50% attendance at most.
6. The partiality between the students of Morning Shift and Evening Shift. First of all, I wouldn't say if its 100% true or not, but I do believe that the people in the evening shift suffer more than the ones in morning. Let me explain you with an example that I being the student of Evening shift have gone through. Most of the Tech Societies like IEEE and GSC(Google Students Club) used to have members from the morning shift, obviously the main reason for this is because there are almost 3 times more students in morning than evening. So, being a tech-savvy, a designer and a developer, I was obviously interested in these two societies and tried participating in both of them. Now comes the main issue! Most of the meetings and competitions were held in the morning hours because of which I was asked to come in the morning as well! They used to call me so early(around 7:30 in the morning) for meetings, which seemed almost impossible to attend, cause my classes started around 12:30 in the evening. You see, I would have gone and volunteered for them, but the timings were so odd! You can't imagine what you would have done sitting idle for more than 4 hours after attending a 10-15 mins stupid meeting! Most of the other cultural societies (Photography, Music) also used to run in the morning and for people like me coming from Delhi, reaching college before 12 was not possible. If you are running a society, every student in the college should get an opportunity to participate, which in my case was only 'partially' true.
7. Books! The fees that we pay in the college includes the price of the books that we must have to study for our academics and till now, there has not been a single semester in which, I received the books of all subjects. In a way, they used to eat our money, and say 'Those books are not available'!
8. Transportation is another mess is this college. They charge almost half a lac rupees as the transportation fees saying that all their buses are 'Fully Air-Conditioned'. But what we get from the conductors of the buses is 'Aaj bus mein GAS kam hai, aaj nahi!', 'AC kharaab hai iss bus ka, yeh nahi chalega', 'Thodi der mein chalaunga'. Not only this, but even after paying the fees in full, they used to ask students to come near them making an excuse that there's a lot of traffic, so please come to this place and we'll pick you up. And if we used to tell the bus driver or conductor that we will complaint against them, they used to say 'Karlo jo karna hai!'. This is totally ridiculous, these bus drivers I swear deserve to be locked up in jail rather than risking them with the lives of students!
9. The construction work keeps going on and on in this college! It never used to finish. Its been 3 years now, and almost every second month, I see some construction work going on. Sometimes, its the roads! Sometimes, its the paint. When students like us our on holidays, then nothing is done. But when its our day, then there is construction noise all over. A building in our college was supposed to be built 2 years back which was to be used by the college students for sports and extra-curricular activities like Music,Table Tennis, Drama Clubs etc etc. And till now, its the same, just like it was 3 years back when I joined the college. No wonder, where all our money goes!
10. The timings and the schedule! Never fixed. On an average, our time tables change around 4-5 times every semester. Sometimes, the students are asked to come even on Saturdays, and sometimes they are asked to come in the morning hours. When I was in the first year, we used to have our exams in the evening hours. After 2 years, they now call us in the morning hours for it. The practicals/external vivas happen at odd times. Some students are called around 10 AM in the morning, and some around 12 PM. In fact, in MRIU(Manav Rachna International University – a deemed university under the same management as that of my college) the students studying in Evening Shift have now been shifted to Morning for the whole semester. You can imagine, the difficulty the student has to face with managing his time. I spend almost 10 hours a day for my college. Getting up at 9, running for college by 10:30. Reaching college by 12 and then leaving college by 7. Finally, I reach home by 8:30 after which I feel heavily tired and bored.
In short, I have proved that my college (at least my college) is nothing but a burden on all the engineers studying in it(especially the ones in the evening). I can understand you saying 'Life is not easy and you have to fight through the difficulties in it', and just FYI, I am fighting! We all do! But you see, this is my experience, my thoughts, my feeling and anger for this stupid college about which I was excited once. And now, the excitement level has gone down to 0% and anger level to a 100%.
Shit Happens! and trust me this college is some real shit (in at least the 10 above ways!). Its as they say, nothing can match the life we spent in school, cause college these days are boring as hell! Prateek Kathal