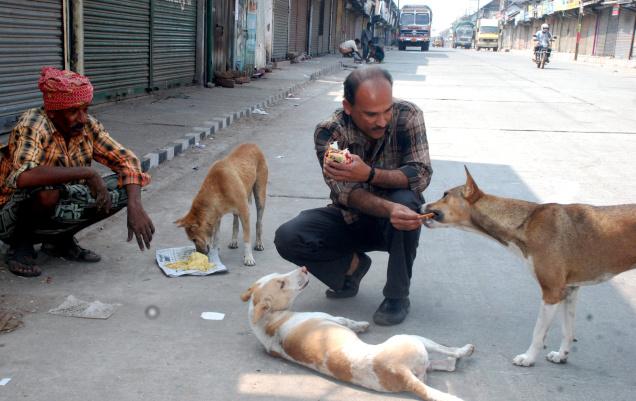 Dogs are mans best friends and if there is anything you can do for your best friend, that is, keep him safe and give him love. Strays are no different from your pets. The only difference is that they are homeless. We talk a lot about giving homes to the children, help them study, but the discussions for the same is ignored when we talk about these stray animals. Why?! It is not just our pets who are allowed to live and have a good life! Everyone one of us talk what we should do for their pets, but none of us ever really think of these poor dogs living on the streets.
People today are getting rich day by day, but these animals, they have nothing to gain and nothing to lose. We buy big cars, comfort ourselves with great luxuries, but the only luxury that they can ever get and want is to be safe! When we talk about these strays, some people say 'I pity them. but what can I do?! I wish I could do something for him!'. If you are one of them, you must keep in mind that 'Whenever there is a will, there is a way!'. If you ever find a stray dog, don't make him run away. Love him, that is all he demands. Give him some food to eat if possible (try not give him Parle G or any type of biscuits that we eat, it makes them prone to hair loss and itching.). You can give them milk(diluted in water), or bread, or just water.
If you have found a dog in your street, or in fact, any street and find him in pain or trouble, do not hesitate, contact the animal helpline immediately. The summers are getting hotter day by day, and the winters keep growing colder. We must protect them, shelter and give them what they really deserve (LOVE!). Saving them will save your soul and trust me, you will get much more peace of mind that you get from praying to god or giving some money to a beggar.
Kindly save the animal helpline numbers as a contact in your phones, so that if you ever find a dog or a cat or any animal in pain, dying, you can help him and not ask yourself "What should I do?".
Delhi/NCR
1. Friendicoes (Under Defence Colony flyover, South Delhi):
– 24 hour Ambulance Service: +91-9873302580, 011-24320707 and 011-24314787
2. Sanjay Gandhi Animal Care Centre (Raja Garden, West Delhi):
– Ph. +91-9312211134, 011-25447751, 011-25448062
3. People for Animals – PFA Delhi Headquarters:
– Ph. 011-23355883, 011-23357088, 011-23359241
4. PAWS (Masoodpur, Vasant Kunj, South Delhi):
– Dr. R.T Sharma: +91-9810036254; 011-26895737
5. Sonadi Charitable Trust (Najafgarh):
– Mrs. Sen (C.R Park): 011-26275216, +91-9212131218; +91-9212797693;
– Dr. Vijay (Clinic at Ramesh Nagar, West Delhi): +91-9810054693;
– Dr. Inder (Vet at Dwarka): +91-9810346793
6. Jeevashram (Rajokri, Near Gurgaon):
– Ph. 011-25063696, 011-25064114, 011-25064118
7. Animal India Trust:
– Dr. Devi: +91-9313884347, +91-9811252592, 011-55669924
Mumbai
1. Animals Matter To Me (Marve Malad):
- Ganesh Nayak – +91-9819380310
2. Welfare of Stray Dogs (Mahalaxmi Centre):
– Ph. 022-23060275
3. PAWS (Dombivli/Thane/Kalyan):
– Ph. +91-9820161114 (Nilesh)
4. Save our strays (Western Suburb):
– Ph. 022-26351503, +91-9820141310
5. IDA India (Helpline Mumbai):
– Ph. +91-9320056581, 022-32681418
Faridabad
1. PFA Faridabad (Sector 55, Faridabad):
- Mr. Ravi Dubey: +91-9213961501, +91-9891816357
2.
Voice of Voiceless Society, Faridabad
:
- Ph.: +91-9810268665
Gurgaon
1. PFA Haryana:
- Ph. +91-9813010595
2. PFA Gurgaon:
- Ph. +91-9811703501
3. PFA Sadhrana, Gurgaon:
- Ph. 0124-2276502, +91-9818838628; - Dr. Pandey : +91-9312289628
4. Friendicoes Ambulance Service at Gurgaon: - Ph. +91-9582337671, +91-9811324649
Noida / Ghaziabad
1. SPCA Noida, Animal Hospital, Helpline:
- Ph.: +91-9818085256
2. PFA (People for Animals) Raj Nagar Extn, Near Nandi Park, Ghaziabad:
- Ms. Sumeidha Iyer Ph. : +91-9910821629, +91-9212548047
3. PFA Ghaziabad:
- Mrs. Ashima Sunil Swaminathan (nee Ashima Sharma)
- Ph. +91-9810923679, 0120-4122100, +91-9312068152
Goa
1.
GSPCA (Goa Society for the Prevention of Cruelty to Animals):
- Ph. +91 832 241 6180
Note:- You can obviously not save all those numbers, but you can at least save the numbers of the centers nearby you. Also, in case of emergency, try to take these dogs yourself to these places. Almost all centers in India are lacking transport facilities and it is not possible for them to visit each and every place because they get 100s of call every hour or so. Do not hesitate to call me if required (my number is mentioned at the bottom of the website). Give voice to these animals! Save them and save humanity!
Don't just talk! Take actions! Commenting on a facebook post is easy, but going on the streets and fighting for things proves your guts. Get Bent!